Nearly 3 Million followers have "Fixed" Their Training with This Tip! Become the next... 

We will never share or sell your email address. You will be added to our mailing list and sent regular
free content containing elite level training tips and advice.
You can opt out at any time.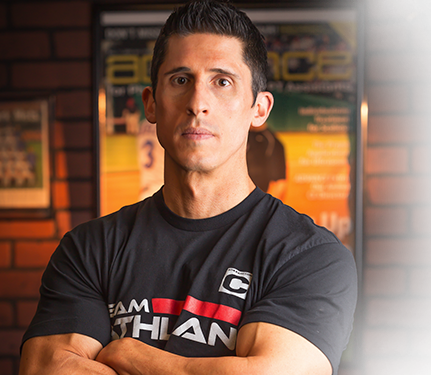 About Coach Cavaliere
Jeff Cavaliere MSPT, CSCS served as both the Head Physical Therapist and Assistant Strength Coach for the New York Mets during the National League East Championship 2006, 2007 and 2008 seasons and coached some of the game's most accomplished players including future hall of fame pitchers Tom Glavine and Pedro Martinez, and perennial all-stars Carlos Delgado, Carlos Beltran, David Wright, Jose Reyes, and Billy Wagner to name just a few. He is a Certified Strength and Conditioning Specialist by the National Strength and Conditioning Association (NSCA).
WANT A COMPLETE TRAINING SYSTEM?
Check out our complete muscle building fat burning programs
ATHLEAN-X Training System
Our 90 day starting point for athlean training. Build ripped, lean athletic muscle by training like an athlete. Training camp is open!
ATHLEAN EXTREME
Pick up where AX-1 leaves off and take your training to the X-treme! 12 New training phases designed to push you to your limits.
Ultimate Arms
Put your shirt sleeves on notice! In just six weeks you could pack 1″ of muscle mass onto your arms. Ultimate Arms has arrived!
WHY TOP PROS LOOK TO COACH JEFF CAVALIERE
David Wright
NY Met's All Start 3rd Baseman
Tom Glavine
300 Game Winning Atlanta Braves Pitcher
STING – Steve Borden
WWE Wrestling Icon
*Individual Results May Vary
COACH CAVALIERE'S PERSONAL DISCLAIMER
1. Please consult a physician and follow all safety instructions before starting any training, exercise of conditioning program.
2. As with any program there is risk of injury and lack of success.
3. Every effort has been made to accurately represent our products, services and their potential.
4. Each athletes success depends on their dedication, commitment, motivation and work ethic.
5. No Guarantee of success, results, or level of achievement can be made.